Cherry blossom season has ended and so has our spring exhibition. Summer is coming soon!
After spring ends and the cherry blossoms have fallen, do you wait until the following spring to see the cherry blossom trees again? In this post, we will share some of the charm cherry blossom trees have in addition to their blossoms.
Sasabe Shintaro studied and nurtured cherry blossom trees year-round, not only during the flowering season. We will share some tips on how to enjoy the trees in every season. Here are Sasabe's criteria for determining good cherry blossom trees:
The colors of the sprouts and buds are beautiful
The shapes of the young leaves are retained after the blossoms have fallen
The branches look good in every season
The bark has a good complexion
The trees are strong enough to bear the wind and snow
As for the cherry blossoms, Sasabe indicated that to be determined as beautiful, the blossoms must be elegant. The above five criteria were for the trees, not for the blossoms. This shows that Sasabe focused on the trees throughout all four seasons. Sasabe indicated in his books that the cherry blossom trees shall be treated as living things. After reading his books and starting to pay attention to the trees throughout all four seasons, we realized that the trees do indeed have beauty during each of the seasons. For example, the Nishinomiya Gongendaira cherry blossom trees that were planted beside the museum's parking lot look beautiful with their lush green leaves even now after the flowering season ended in early April.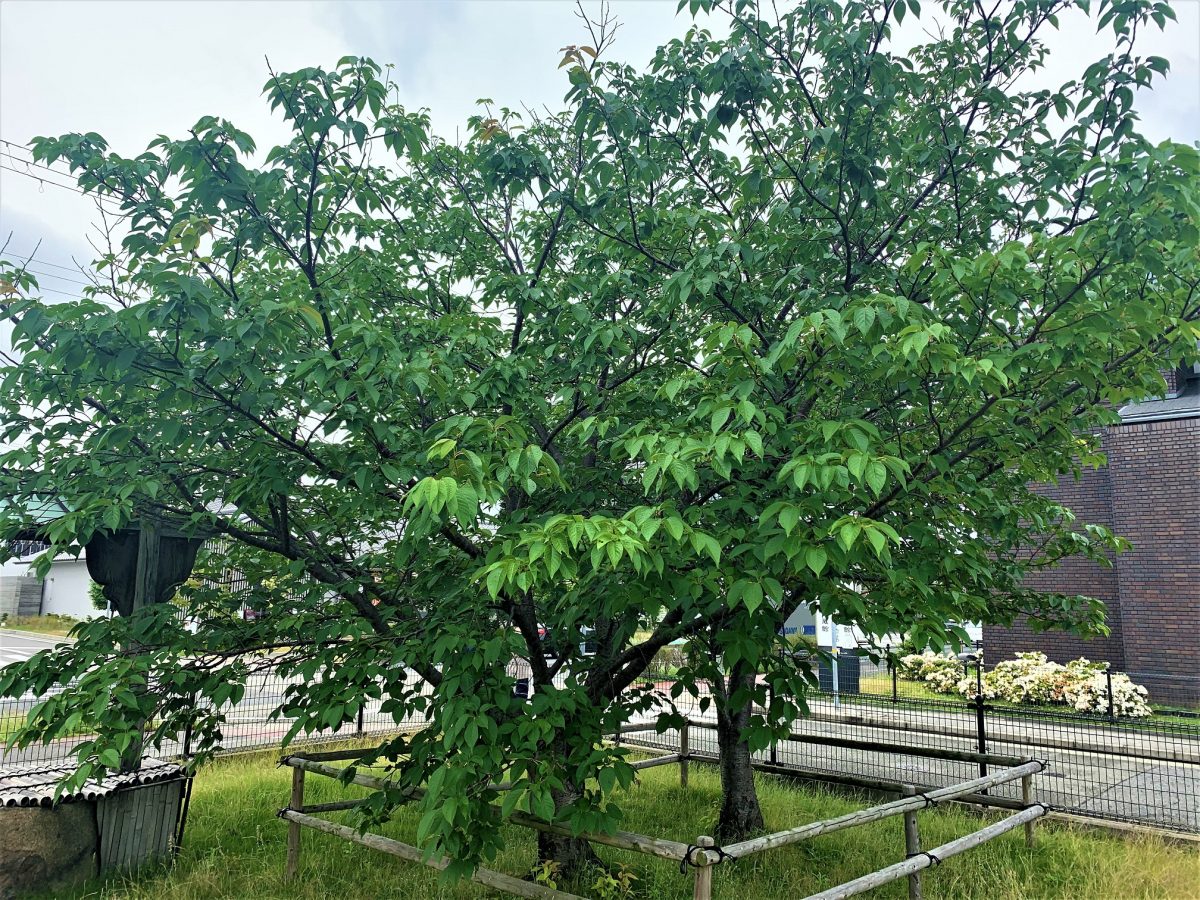 Looking at this picture of the tree, you might overlook it's beauty, thinking that all the blossoms have fallen and only the leaves are left. However, why don't you take a closer look and find the charm of the tree that Sasabe inspired us to see?
Pictured above is a closer look at the tree. Did you know that the branch is dark red? Sasabe gave special attention to the branches. Once, he went to a mountain during winter to see wild cherry blossom trees with oxidized silver branches. He was always excited to discover the seasonal beauty of the trees.
Through Sasabe's writings, we discover new aspects of cherry blossom trees. Please look forward to future articles where we will share more attractions to be found in the cherry blossom trees!