Rainy season has come earlier than usual this year. How about going out for a walk in the rain to refresh yourself? In this post, we will feature some of the Japan Heritage sites related to sake which may be of interest to you.
Japan Heritage is a program run by the Agency for Cultural Affairs. It aims to promote Japan's unique cultural traditions, encourage interaction with national cultural properties, and revitalize regional economies. When a site (or sites) with unique regional histories and traditions is recognized by the Agency for Cultural Affairs, it is designated as Japan Heritage. Between 2015 and 2020, over 100 locations have been designated as Japan Heritage sites.
In 2020, a story about the history and culture of Japanese sake in five cities (Itami, Ashiya, Amagasaki, Kobe and Nishinomiya, where the Sake Museum is located) was recognized and designated as Japan Heritage. The story is titled "Itami and Nadagogo: The famous sake brewing region where Morohaku (sake brewed by white rice) of Itami and Kiippon sake of Nada (Kurarizake) were brewed". In this blog post, we will share a part of this Japan Heritage story.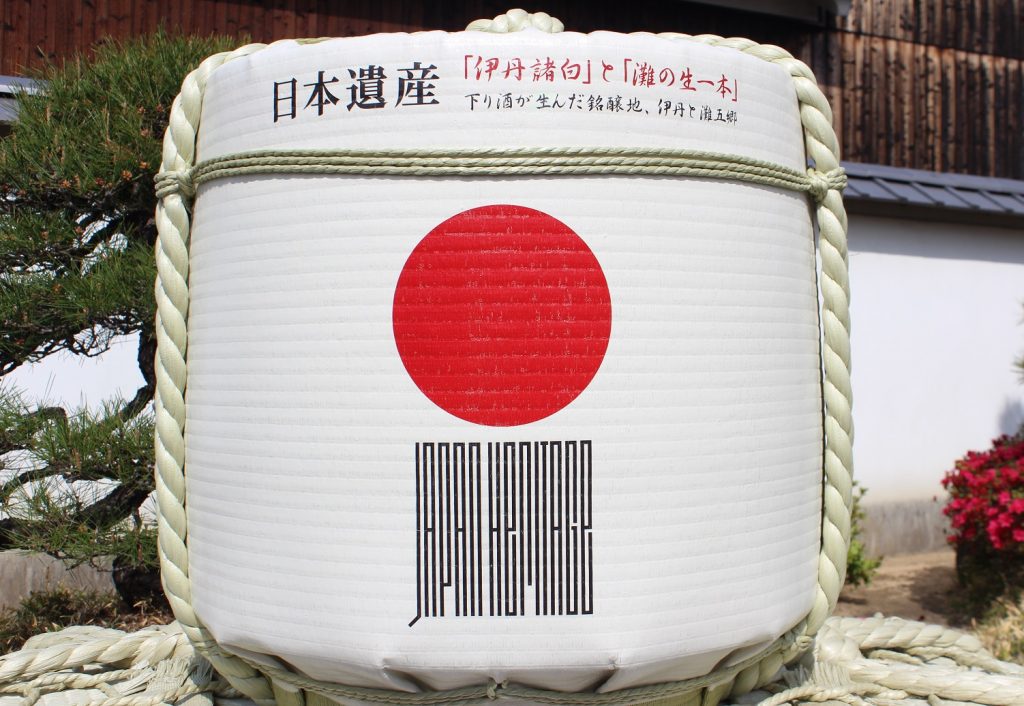 As mentioned above, the five cities mentioned in this Japan Heritage story are in the sake brewing region called Nadagogo (which covers Nishinomiya and Kobe), and Itami, Ashiya and Amagasaki (which are not within the area of Nadagogo). We discussed Nadagogo in our last column, so we will focus on the other three cities in this column.
Itami City is known as a birthplace of refined sake, and their brewing method is said to have been passed on to Nishinomiya. In the Edo period (1603-1867), Itami sake brewers began wholesale businesses to sell their sake in Edo (present-day Tokyo), and marine transport businesses to transport their sake to Edo. Thus, the history of sake in the Edo period cannot be told without mentioning Itami.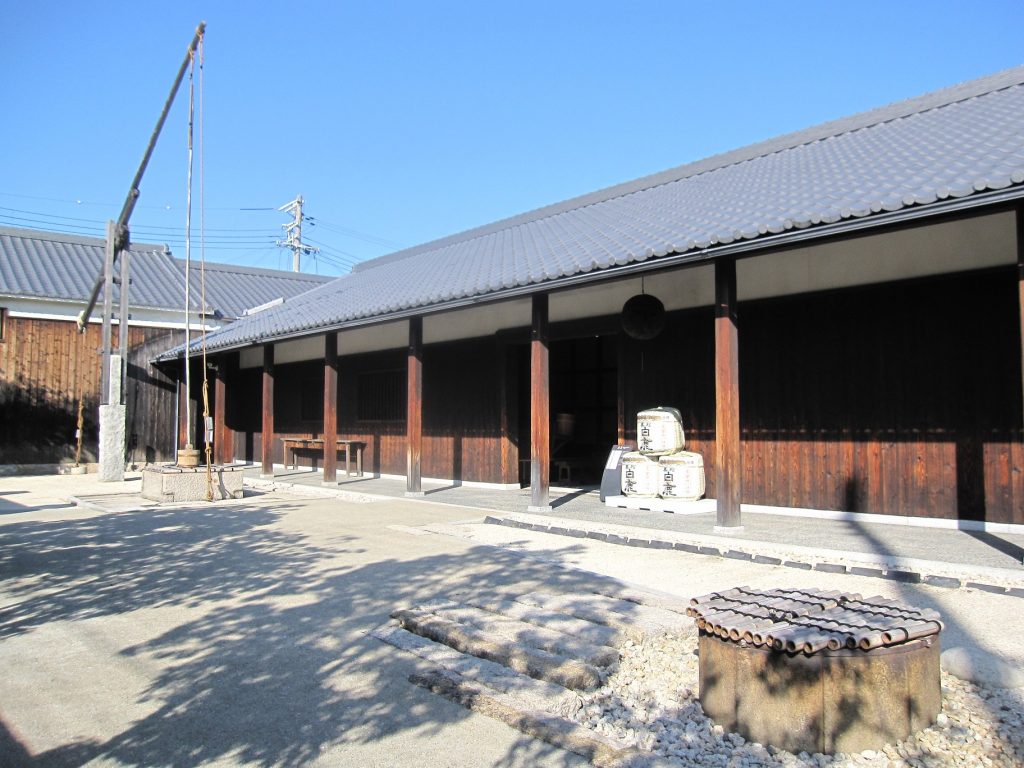 Ashiya City is where waterwheels were equipped to polish rice, one of the ingredients of sake. The efficient waterwheel rice polishing method which utilized the natural waterpower from Ashiya-gawa River and other rivers in Ashiya, was said to have improved the quality of sake in Nishinomiya and the Naga region during a time when elsewhere, the most used rice polishing method was foot-driven mills. In Ashiya, there is also a western-style building designed by Frank Lloyd Wright (present-day Yodoko Guest House) which was built as a request by a sake brewer named Yamamura Tazaemon from the Uozaki area. The building was also designated as a cultural property of Japan Heritage in 2020.
Amagasaki City was known for making woven straw mats for wrapping sake casks. During the Edo period (1603-1867) and the Meiji period (1868-1912), wooden casks were the main container for sake, and the sake casks were wrapped in woven straw mats to be protected from being damaged during the transport by vessel to Edo (present-day Tokyo). The technique of making woven straw mats is still used to this day.
In Nishinomiya, a total of 13 buildings and facilities were designated as cultural properties of Japan Heritage, including the former main sake brewery building of Tatsuuma-Honke Brewing (present-day Sakagura-kan), the remains of a rice steaming place, Kamaba in the Sakagura-kan, and a set of sake brewing tools and sake brewing tubs and vats in the Sake Museum.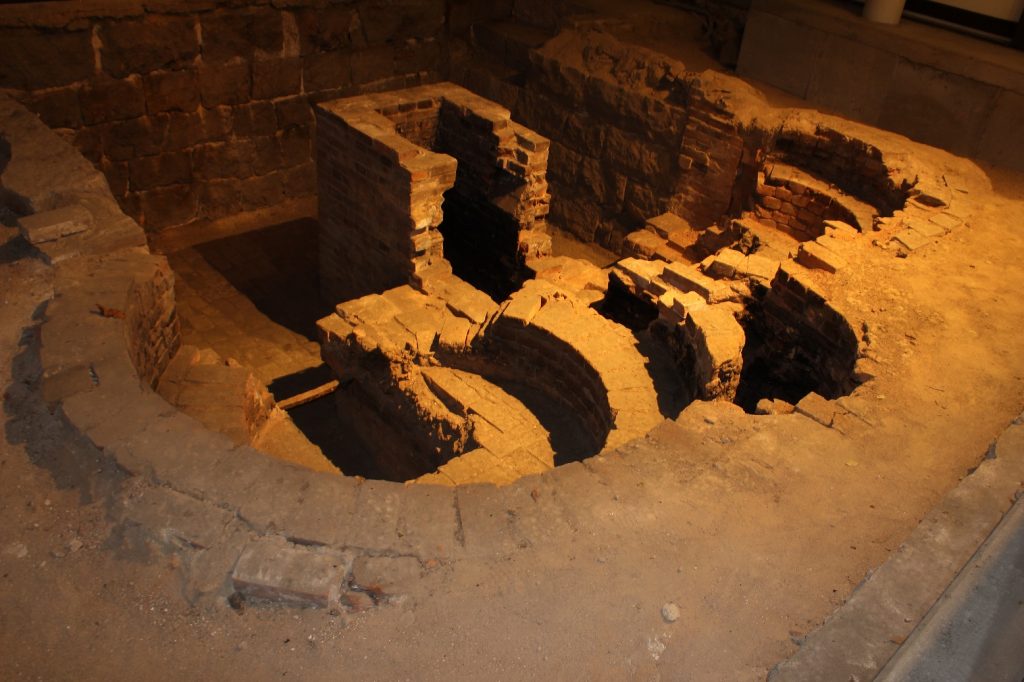 Just like the scene in the picture, visiting the Sakagura-kan on a sunny day would be nice, but it would also be aesthetic to see the building in the rain. Let's enjoy a rainy day. We look forward to your visit to our museum!