Even though our city is still under the COVID-19 state of emergency as of today (May 15, 2021), we are pleased to announce that we were able to reopen the museum for the spring exhibition.
In this post, we will introduce a group of sakura painters known as "The Mikuma School", along with their paintings that are currently displayed in our exhibition rooms. The Mikuma School was a group of four painters who actively worked for about 60 years during the Edo period (1603-1868). They were known for exclusively painting sakura (cherry blossom trees).

Let's begin with the founder of the Mikuma School, Mikuma Shikō (1730-1794). Shikō initially began with bird-and-flower paintings, but after coming up with the following idea: "Since cherry blossom trees exist only in Japan, it is our responsibility to paint those trees" (quoted from the chapter titled "Biography of Shikō" in the "Biographies of Modern Eccentrics"), he strived to excel in painting cherry blossom trees. He is said to have traveled all over Japan, carefully observing actual trees and flowers in order to paint the cherry blossom trees. He depicted each individual blossom with such incredible detail.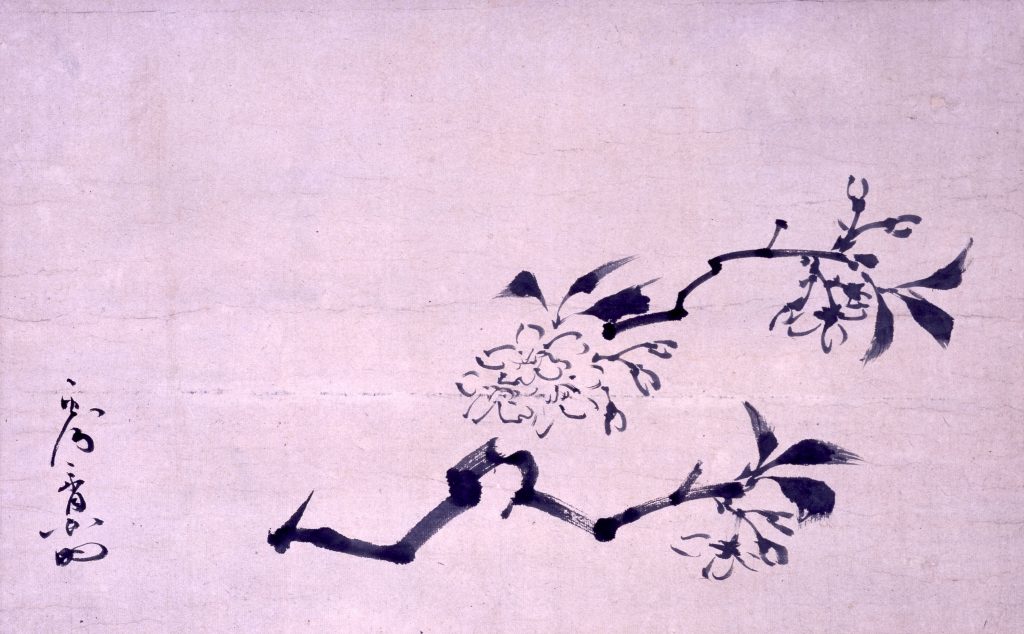 Mikuma Shikō's sister, Mikuma Rokō (unknown-circa 1801) is said to have learnt to paint cherry blossom trees from her brother Shikō as she traveled with him, but details of her life are yet unknown. Some of her paintings appear to have been influenced by her brother, whereas others show her original method of ink painting of using only black and indigo blue ink. Sasabe Shintaro was so intrigued by Mikuma Rokō's painting style that he sometimes overstretched his budget in purchasing her paintings, as was written in his autobiography "Sakura Otoko Gyōjō" (The Behavioral Record of the Cherry Blossom Trees Man).

Hirose Kain (circa 1772-1849) was a disciple of Mikuma Shikō who was given the honor in 1818 of painting the Sakon-zakura cherry blossom tree which grew on the south side of the Shishin-den Hall in the Imperial Palace. He was the first person to paint the cherry blossom tree in the Palace, even though the tree had been there since the Heian period (794-1185). In 1819, he was permitted to paint yet another cherry blossom tree in the Sentō Imperial Palace. He was known as a master of cherry blossom tree painting, and was later given the pseudonym "Kainai Sakura Gasen" (literally, "the best domestic painter of cherry blossom trees") by the Imperial Court.
In the book "Bukō Nenpyo" (Chronology of the Edo Period) the author Saito Gesshin describes how meticulously Kain depicted cherry blossom trees in order to illustrate the differences between the varieties.

The final painter of the Mikuma School was Oda Shitsushitsu (1779-1832), also a disciple of Mikuma Rokō. Unlike Hirose Kain who worked primarily in the cultural capitals such as Kyoto and Edo (present-day Tokyo), Shitsushitsu worked in her hometown (in present-day Shiga Prefecture) as a nun painter after her second husband passed away.
Because Shitsushitsu usually wrote the year of painting on her work, it is relatively easy to track the change of her painting styles over the years. She established her own style in painting thick trunks, leaping leaves and, through the use of shading, three-dimensional flowers.
Certainly it is most enjoyable to see the beauty of real-life cherry blossoms, but it is an unforgettable experience to see these paintings, and how the painters' points of view and unique styles of painting and the way they cherished the cherry blossom trees shine through the paintings.
We hope you enjoy the paintings on this page. Please check back for our next article!