Hello! In this article we would like to introduce our ongoing exhibition "World History of Cherry Blossom Trees", which will be available until March 6 in the Sake Reference Room.
In seeing this exhibition's theme of "World History", you may wonder if cherry blossom trees exist in countries other than Japan.
Cherry blossom trees do indeed exist in many countries in the Northern Hemisphere. The exhibition highlights how Sasabe Shintaro interacted with people abroad regarding cherry blossom trees.
To begin with, we'd like to acquaint you with an Englishman named Collingwood Ingram (1880-1981). Ingram was born into a wealthy family who made their fortune in the newspaper industry. After visiting Japan several times, he began to be interested in cherry blossom trees which were not yet well known in Western countries. He began collecting various cherry blossom seeds, which led him to plant over 100 varieties of cherry blossom trees in the grounds surrounding his residence by 1926.
That same year, Ingram visited Tokyo to give a lecture at "Sakura no kai" (the Cherry Blossom Association), which was founded by Shibusawa Eiichi and had Miyoshi Manabu as an advisor. The Association's aim was to nurture the spread of cherry blossom trees and secure the cherry blossom as the national flower of Japan. In his lecture, Ingram drew attention to the condition of cherry blossom trees in Japan, having observed that the trees were not well cared for, even the trees in the famous viewing spots.
Although we have not been able to confirm if Sasabe Shintaro and Ingram met, we found a "Sakura" (Cherry Blossom Trees) magazine article featuring Ingram's lecture at Sakura no kai in Sasabe's collection. (This magazine is currently displayed at our museum). Just like Ingram, Sasabe had a sense of concern regarding Japanese cherry blossom trees. Sasabe mentioned Ingram's name numerous times in his lectures and articles.
As part of his research, Sasabe actively collected foreign books and documents related to cherry blossom trees in addition to the Japanese ones. At the exhibition, some of the letters from foreign publishing companies with regard to the purchase of books and the books he purchased are also displayed.
As you may be aware, the National Cherry Blossom Festival is held in Washington D.C. in the United States each spring. These cherry blossom trees were given to Washington D.C. by the Governor of Tokyo, Ozaki Yukio, in 1912 as proof of goodwill between Japan and the U.S. Sasabe did not participate in this event at that time. In 1950 after WWII, Ozaki Yukiteru, the fourth son of Ozaki Yukio who was traveling to the United States, asked Sasabe if he wished to give some of his documents regarding cherry blossom trees to the U.S. to contribute to the goodwill between the two countries. Sasabe planned to offer his cherry blossom seedlings instead, but Ozaki Yukiteru returned to Japan before this was realized. In 1964, Sasabe's seedlings were transported to Poland to the birthplace of well-known pianist Frederic Francois Chopin.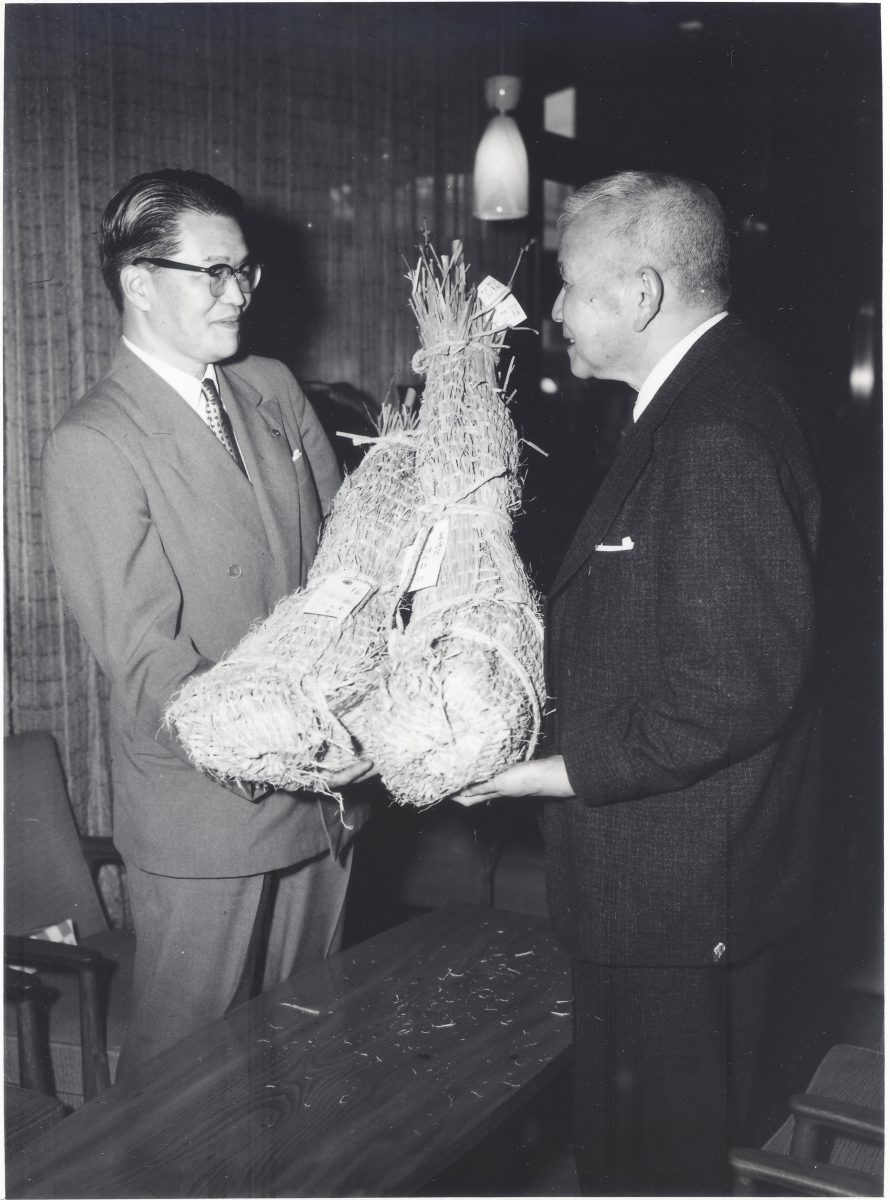 At the exhibition, you will find other exhibits such as Sasabe's 1953 letter to the manager of the Department of Landscape Architecture at Harvard University, informing on the conditions of cherry blossom trees in Japan.
Please look forward to the next article!